TMD/TMJ Treatment in Buckhead
Reducing Symptoms & Correcting Bite Problems
At Premier Dental Care of Buckhead, our Atlanta dentist team offers quality dental care for a wide range of problems. If you need TMD/TMJ treatment in Atlanta or the surrounding areas, we provide patient-centered care with treatment that is designed to meet the unique needs of each patient.
CBCT
Our office utilizes the KAVO OP 3D. It provides 2D, 3D, and Cephalometric imaging. This new technology features the lowest radiation exposure, with the highest quality imaging. The cephalometric and 3D imaging allows us to assess the condition of the TMJ, airway, and look for pathology or other findings that may not be visible with 2D imaging. We also use the 3D imaging to assess bone quality and quantity when planning for implants and other surgeries and ensure that no complications arise.
Symptoms & Treatment of TMD/TMJ
Temporomandibular joint disorder, or more commonly known as TMD or TMJ, is a misalignment of the joint that connects the lower jaw to the skull. The misalignment causes the jaw to lock. This locking of the jaw, teeth clenching, and grinding are some of the most common symptoms of TMD.
Other common TMD symptoms include:
Headaches
Clicking or popping in the jaw
Facial pain
Tinnitus or ringing in the ears
Numbness in the fingers and arms
There are options for treating TMD to relieve your symptoms. When the jaw is misaligned, realigning the jaw can help improve your symptoms and restore your comfort. The misalignment of the jaw is corrected with the use of small plastic appliances, known as splints. The splints work to gradually and gently realign your jaw to the correct position, which resolves symptoms and restores comfort.
Bite Balancing Treatment
Bite problems are associated with TMD/TMJ symptoms, including tooth sensitivity, cracks or fractures in the teeth, teeth grinding, headaches, muscle pain, bone loss, and discomfort. Fortunately, our Buckhead dentist is knowledgeable in the process of correcting bite problems or bite balancing. This process involves evaluating how the teeth contact and making corrections. Dr. Brown and Dr. Collett evaluate your bite and change the teeth as needed, either by adding or removing small amounts of the tooth surface to improve how the teeth fit together. Models are used in a trial balancing procedure to create a plan that will work for you.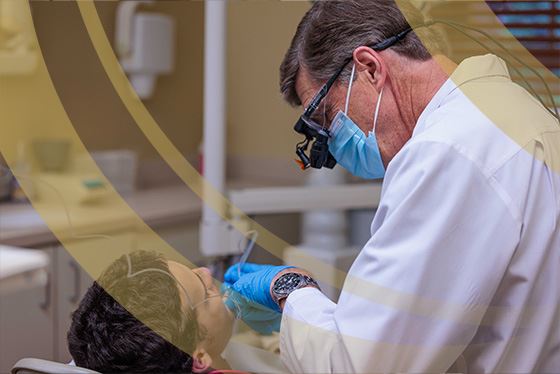 Before & After Photos
Our experienced team of dental professionals will work with you and your budget to find a solution to help improve your smile and quality of life.