Preventative Dentistry in Buckhead
Stop Oral Problems Before They Start!
There are many ways we all take care of ourselves to stay healthy. Good diet and nutrition, exercise, regular health checkups are just some of the many things we do to detect and prevent serious diseases. Keeping up with regular dental checkups and hygiene will help prevent more serious problems from developing, and contribute to your overall health and well-being as well.
Get started with an initial consultation with our Atlanta dentist at Premier Dental Care of Buckhead. Call us today at (404) 236-6906 or contact us online to schedule an appointment and learn more about preventative dentistry in Buckhead.
How Often Should I Visit The Dentist?
It is recommended that you have a professional dental examination and cleaning at least every six months. Preventative treatment is essential in maintaining good oral health.
On your first visit, and every five years after that, we'll perform a comprehensive exam that will include digital and panoramic X-rays, as well as images of every single tooth using a small, hand-held intraoral camera.
Oral Cancer Screening Treatment
Oral cancer is a growing concern for several reasons. Without regular dental checkups and oral cancer screenings, the disease can go undetected until it reaches an advanced stage. In addition to risk factors such as smoking, other tobacco use, and alcohol abuse, there is now the risk from the human papillomavirus (HPV), a sexually transmitted virus that can lead to several different cancers, including oral cancer.
Digital Dental X-Rays Services
With our Dexis imaging equipment at our Buckhead dental office, we can now see every detail of your teeth and gums with more clarity and definition than was ever possible with traditional X-rays, which we also show you during the check-up. Not only are they more environmentally friendly since they don't use films to produce the images, but they are also much less harmful to you. Digital photography significantly reduces that amount of radiation that is produced, making it safer for you.
Diagnodent Dental Treatment
This small laser can detect even the smallest beginnings of decay. The process involves comparing tooth densities to reveal cavities, and is much more accurate than any previous technology.
Oral Hygiene & Hygienist Treatment
If you're of a certain age, you'll remember that tooth cleaning at the dentist involved what was really not much more than an electric toothbrush! Now we use the Cavitron and Prophy Jet tools to dissolve dental plaque and leave your teeth feeling the cleanest they ever have!
Gum Disease Treatment
Checking for signs of gum disease is an important part of every dental exam. Gum disease can lead to serious problems not only for your teeth and gums but is linked to conditions such as heart attacks, strokes, low birth weight babies, and even dementia as well. We have many different options to treat gum disease which will vary depending on the severity of your case. One common treatment is the use of a topical antibiotic called Arestin. Our Buckhead dentist will explain the recommended treatments and help you choose the best one.
Fluoride Treatment
The use of fluoride for dental health and cavity protection is one of the more important health advancements ever made. We apply fluoride treatments at every visit for every patient, young or adult. Fluoridated water goes a long way in cavity prevention, and our fluoride treatments supplement public water supplies with even more protection.
Nightguards Services
If you are a nighttime tooth grinder (bruxism) or have problems created by temporomandibular joint disorder (TMD), a lightweight nightguard that keeps your teeth and jaws from grinding together can help. Nightguards are custom-fitted for maximum comfort and effectiveness.
Maintaining Good Oral Hygiene At Home
Brush your teeth at least twice a day with fluoride toothpaste, floss daily, and rinse with an antimicrobial mouthwash. Maintain a balanced diet, limit sugary snacks, and drink plenty of water. Avoid smoking and tobacco use.
Call Our Buckhead Dentist for an Initial Consultation
Dr. Brown is an award-winning dentist that was recently recognized by FindaTopDoc.com. He is also a member of the American Dental Association and the American Academy of Facial Esthetics. For over 40 years, he has been known for providing exceptional service and care to each of his patients to ensure a lifetime of good oral health. Allow him to do the same for you.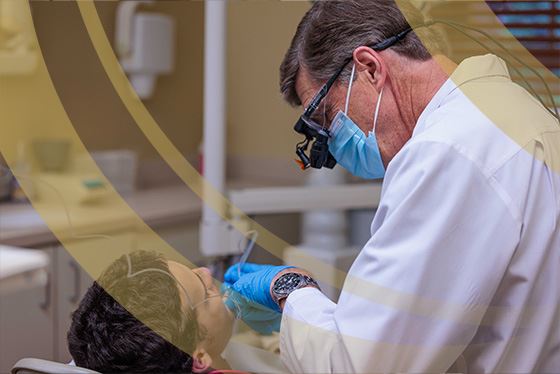 Before & After Photos
Our experienced team of dental professionals will work with you and your budget to find a solution to help improve your smile and quality of life.