Restorative Dentistry in Buckhead
Restoring the Health & Beauty of Smiles
Most people will need some type of dental restoration at some point. Dr. Brown and Dr. Collett offer a full range of Buckhead restorative dentistry treatments, from filling cavities to full mouth restorations. For over 40 years, we have been creating and enhancing beautiful smiles, one patient at a time.
Experienced in All Types of Dental Restoration
Our goal is to provide comprehensive diagnostics and educate our patients to help them make informed choices about their care. Our staff build relationships with patients, explain treatment options, and provide the information they need to determine the best course of treatment for an individual patient, whether a single treatment or a combination of restorations are needed to achieve the desired result.
We offer a wide range of restoration treatments, including:
Dental fillings - We fill cavities with mercury free fillings, rather than metal amalgam. The tooth colored resin creates a tight seal to protect the tooth and provide a natural appearance.
Inlays and onlays - Certain restorations work better for specific areas of the tooth for aesthetics and durability. Inlays cover the top of the tooth to the cusp and overlays extend over the cusps.
Dental crowns - A crown is designed to cover a damaged tooth to reinforce and preserve the natural tooth. The crown is custom colored to match your existing teeth for a completely natural appearance.
Dental bridges - When one or more teeth are missing, a bridge is used to fill in the gap. The bridge is cemented to the natural teeth on either side for greater stability, allowing you to eat, speak, and smile normally.
Dentures - We offer full and partial dentures to replace some or all of the natural teeth. Dr. Brown and Dr. Collett will design a plan that is tailored to your specific needs to restore the appearance and function of your teeth.
Root canal - Infection, decay, or injury may result in a tooth that is intact, but nerves that are infected. Root canal therapy involves cleaning out and filling the nerves in the root canal to remove the infection, while preserving the tooth.
Dr. Brown and Dr. Collett perform all restorative procedures using the single tooth anesthesia system known as the "wand." The wand works by administering a small drop of anesthetic solution at a time to minimize discomfort. When combined with our specially formulated numbing gel, it truly makes our injections painless!
Dr. Brown, Dr. Collett, and our staff are committed to providing patient centered care and your comfort is a primary concern. We explain the restoration options that are available to improve your smile and answer your questions. Financing opportunities are available.
Full Mouth Restoration
When extensive damage is present, Dr. Brown and Dr. Collett may recommend some form of treatment or restoration for all the teeth in the mouth. A combination of treatments and restorations may be required to fully restore your smile. We believe in detailed planning, patient education, and communication to design custom tailored treatments to deliver results that are nothing short of amazing. Learn about all our Buckhead restorative dentistry services to ensure your overall oral health and comfort.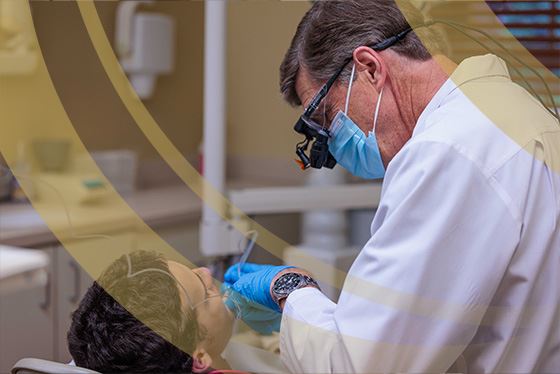 Before & After Photos
Our experienced team of dental professionals will work with you and your budget to find a solution to help improve your smile and quality of life.