Smile Gallery
Beautiful Smiles for Our Beautiful Patients!
Porcelain Crowns for Front Teeth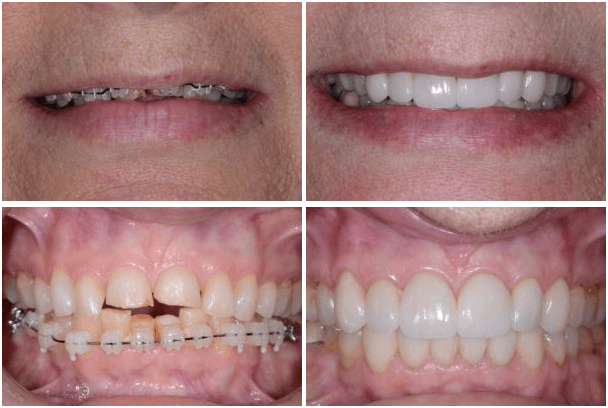 ---
Single Porcelain Crown for Front Tooth

---
Composite Bonding of Front Teeth

---
Porcelain Crowns for Front Teeth

---
Porcelain Veneers Front Teeth

---
Composite Bonding of Front Teeth

Rad was ready to start law school but wanted an inexpensive way to fix his front teeth until he could afford a more permanent solution. Teeth were restored with a transitional composite Bonding.

Adam is a dentist that was concerned with the wear on his front teeth. After his bite was corrected that contributed to this breakdown, the teeth were restored with composite bonding.

Cecil was going to be married and needed a quick way to make his front teeth appear whiter and look better. The teeth were restored utilizing composite bonding.
---
Fractured Teeth

William was at college and had an accident which broke off his two upper front teeth. He met Dr. Brown at the office and later that afternoon left with his teeth restored using composite bonding.
---
Full Mouth Rehabilitation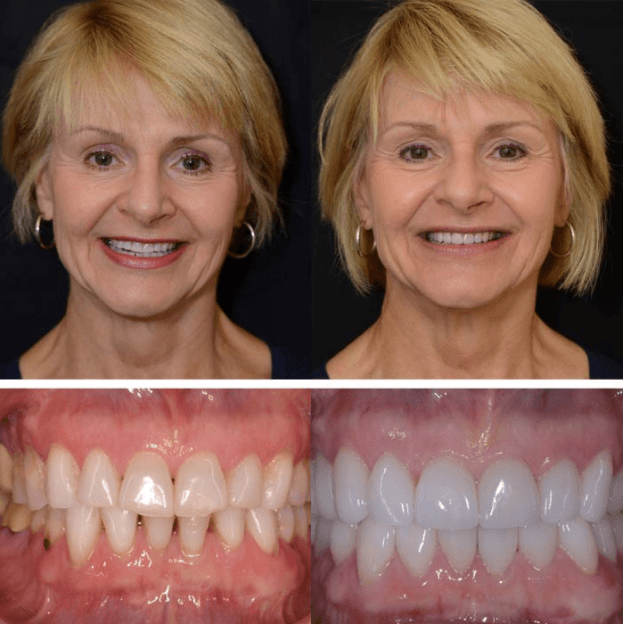 Cynthia's teeth were worn and broken down due to a bite Problem. She lost her pretty smile. She had a bite correction and her teeth restored with porcelain crowns to lengthen her teeth and restore her beautiful smile.
Dr. Lewis Brown's attention to detail is amazing! Although, he has been my dentist for years, his expertise became even more apparent throughout this process. First, the long term planning was excellent and a big help with my budgeting. Then, I never experienced any physical discomfort or even frustrating long waits over the months this took. Finally, Dr. Brown's follow up with me has been caring, concise, and quick if necessary.
His work on my teeth was functional rather that designed to produce drastic aesthetic changes and still, I smile more to show off these "pearly whites." I am very glad that I took the leap with Dr. Brown and his competent staff, making it easy and pleasant.
- Cynthia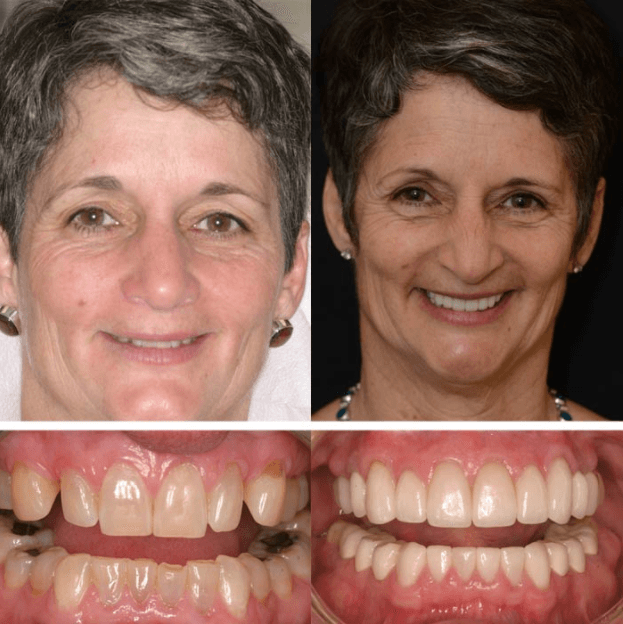 Shelly had lost some teeth at an early age and her remaining teeth were worn and becoming loose. Her bite problem was corrected and her mouth was rehabilitated using implants and porcelain crowns.
I represented a challenging case and after carefully reviewing my history, assessing my current dental situation and researching treatment options, Dr. Brown presented me with various treatment plans, costs to consider, and possible outcomes. I chose the plan that I believed had the best outcome for me and fit our family's budget. Dr. Brown then linked me up with top notch specialists and as a team, led by Dr. Brown, they carried out the plan which consisted of tooth removal, orthodontia treatment, bone implants, tooth implants, crowns, and time. The specialists regularly communicated with one another and with me so I understood the steps and was prepared. I was not just a patient, but a member of the team. During my entire on course of treatment, Dr. Brown and his office staff (Mandy, Maxine, and Martha) took great care of me…they answered my questions, allayed my fears, minimized my pain, and cheered me on to the final steps. I feel blessed to have been and to be a patient of Dr. Brown's.
- Shelly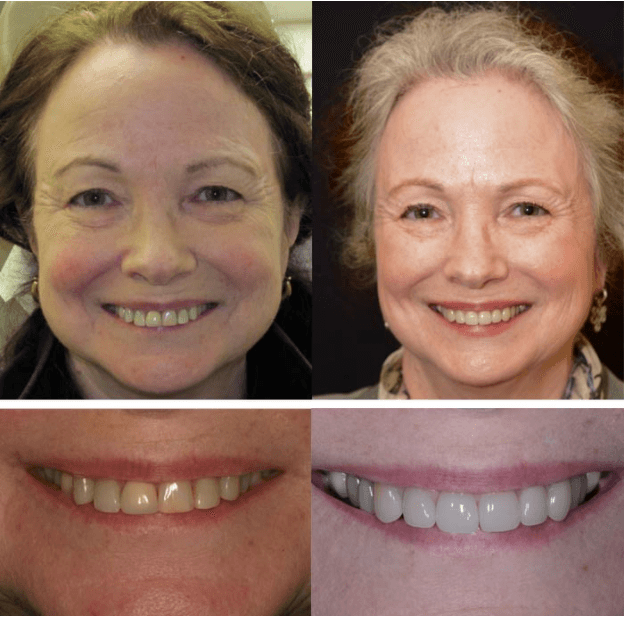 "Helen" wanted to improve her smile and restore her teeth in a way that looked natural for her. To do this we took photos and mounted stone models of her teeth and duplicated her existing bite on an instrument. From there Dr. Brown did a diagnostic wax up where the lab and Dr. Brown work together to see what the teeth should look like and how they will function. From that wax up a mock up was made where Helen could view her result in her mouth as well as on the mounted models of her teeth ahead of time, before we ever start the procedure. In this way by planning the case, we all worked together to give Helen a natural looking smile she was happy with that would function well and last for many years.
---
Gum Line Erosion and Composite Bonding

The three teeth show erosive lesions at the gum line that have been restored with composite bonding to match the tooth color and build back the contour of the teeth.
---
Botox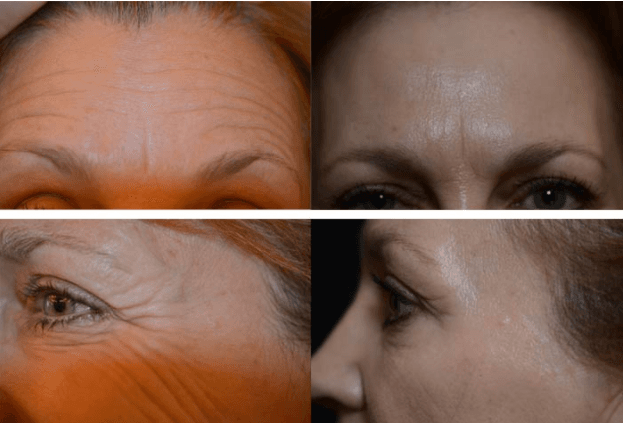 Mandy was concerned with the vertical lines between her eyes, her forehead lines, and the lines around her eyes. Botox was administered in these areas and this is the result after a week.
---
Dental Implants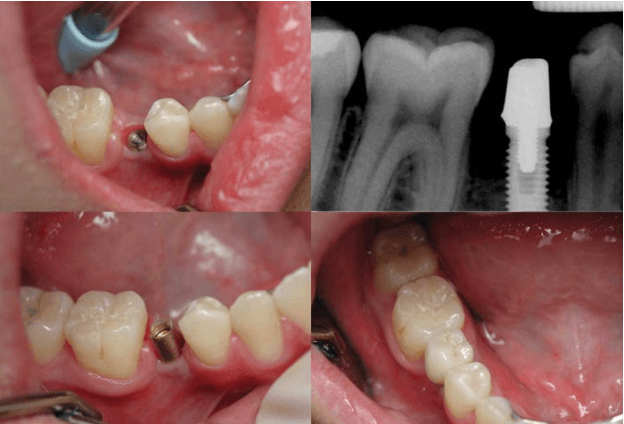 Johnny was born missing his lower bicuspid tooth. The missing tooth was replaced and restored with a dental implant and implant crown before he went off to college.

Lavinia was born without her upper left central incisor tooth. The missing tooth was replaced and restored with a dental implant and implant crown to match her other teeth.

Dana had lost her upper front teeth from periodontal disease. Once the disease was cured the teeth were replaced and her smile restored by making a fixed bridge over two dental implants.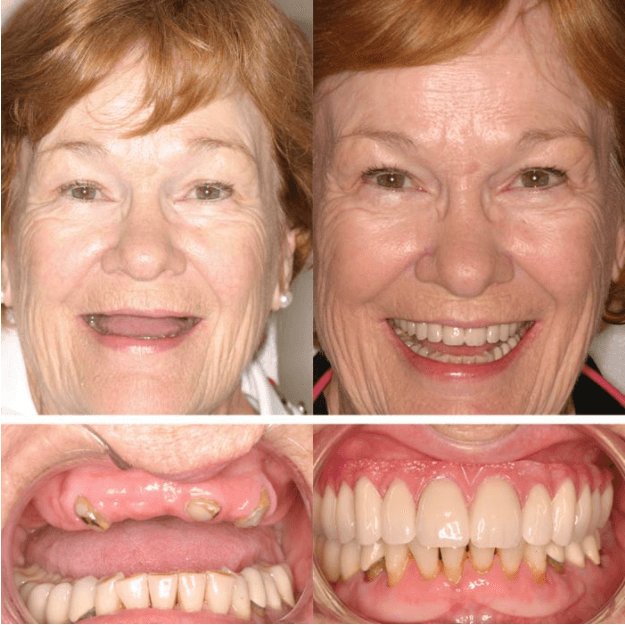 Alice wore an upper denture as she lost her teeth early in life. She could not chew her food well and the denture did not support her face and smile very well. Her teeth and smile were reconstructed using six dental implants supporting her new implant bridge. She now has a pretty smile and can eat whatever she chooses.
Having dental implants has been a great decision for me. I had the implants done in 2009. Dr. Brown and his staff are very professional and caring. I would highly recommend Dr. Lewis for this procedure
- Alice
---
Porcelain Crowns for Back Teeth

Two broken down molar teeth with old silver fillings were cleaned out and restored with bonded porcelain crowns. There is no metal in these crowns and this process allows for a more conservative preparation of the teeth, and a more natural appearance.
---
Porcelain Crowns for Front Teeth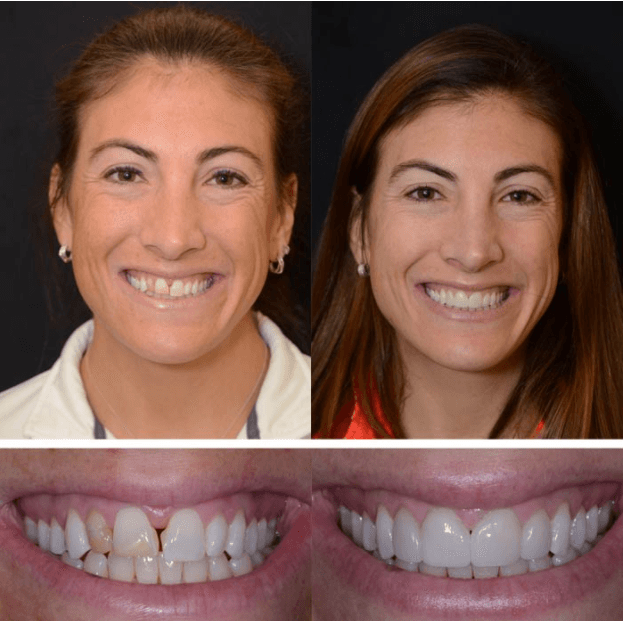 After a series of "not so great" dental experiences, a friend recommended Dr. Brown. I've been seeing him for over 7 years and have had nothing but excellent experiences, especially recently. In my teens, a dentist tried to fix a gap between my 2 front teeth by bonding them together. It looked horrible! Luckily, it wore down over time but left me again with the gap along with a discolored chipped tooth from a childhood fall. Dr. Brown suggested porcelain crowns for my 4 front teeth. At first, I was very hesitant because of friends and family past experiences. He took so much time to make sure our visions for my "perfect smile" were the same. He never pressured me to get the work done or pushed to get anything more than what was necessary. I decided to get the work done and am beyond thankful I did! My smile look wonderful and I have Dr. Brown and his staff to thank. I had no pain during the prep appointment and everything exceeded my expectations.
I never write reviews but I had to in this case, because this office deserves it!
- Jennifer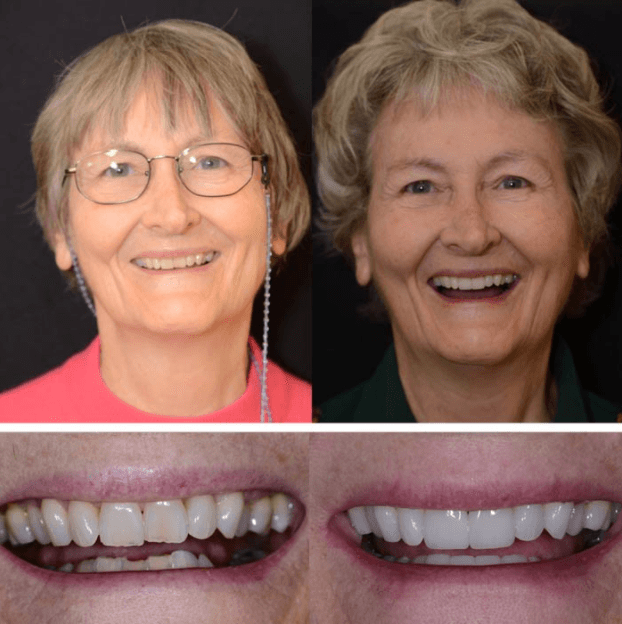 Lindsay was unhappy with the look of her smile. Many of her teeth were worn, stained and broken. After balancing her bite to prevent further breakdown her teeth, her smile was improved using porcelain crowns on the upper front teeth and porcelain veneers on the lower front teeth. The change in form, function and color gave her a beautiful smile that would not only look great but function well and allow her not to have to worry about her teeth in her elder years.
Dr. Lewis Brown and his team operate smoothly and efficiently; it is a pleasure to work with them. I am pleased with the results of their service to me and my new smile.
- Lindsay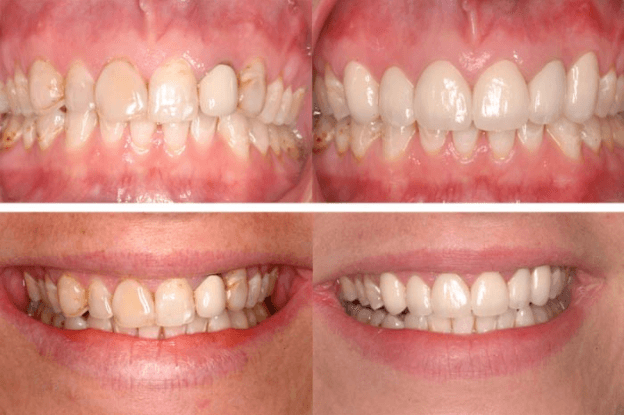 Jenny did not like the looks of her front teeth. She had an old crown that did not look good and a problem with decay that had permanently stained her teeth. Her teeth were restored with porcelain crowns which greatly improved her appearance and smile.

Dave was born with small teeth and a big jaw so he had spacing between his front teeth and wanted to close the spaces. Because of functional issues the orthodontist could not close the spaces but was able to symmetrically position the teeth. The teeth were then restored with porcelain crowns to close the spaces and correct the length of his teeth giving him a reason to smile again.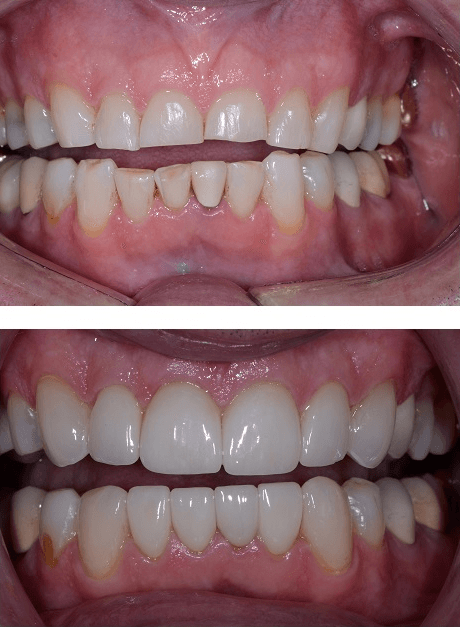 Eddie had a bite problem that caused a great deal of wear to his front teeth. After having his bite balanced on his back teeth to help improve his chewing function, Eddie underwent orthodontics to place teeth back in their correct position. This gave the space necessary for Dr. Brown to restore teeth with all porcelain crowns, which left Eddie with a beautiful and functional smile.
---
Porcelain Veneers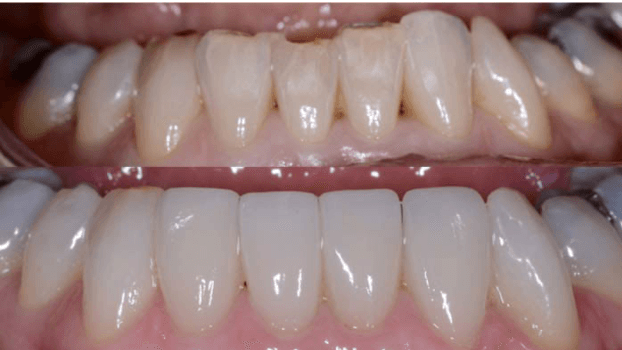 Here porcelain veneers were used to restore these fractured lower front teeth improving the color, contours, and making the alignment better giving this beautiful result with a very conservative approach.

Elizabeth felt her upper front teeth were too big and square looking. She desired a softer look to her front teeth. This was accomplished with porcelain veneers.
---
White Fillings

This case shows the difference is appearance of amalgam silver fillings and white composite fillings.